Northern Ireland house prices rise by 4.9% in year to June, says ONS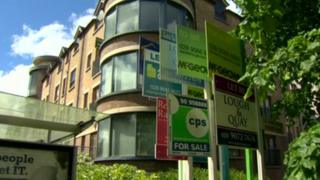 House prices in Northern Ireland rose by 4.9% in the year ending in June, according to the Office for National Statistics (ONS).
The UK average was 10.2%, but that was skewed by a rise of more than 19% in London.
The ONS index suggests the price of a typical house in NI is £137,000, the same as early 2012.
The index is based on mortgage completions with the data provided by the Council for Mortgage Lenders.
The most comprehensive house price index for Northern Ireland will be published on Wednesday.
The Northern Ireland Residential Property Price Index, which is produced by Stormont's statistics agency, records the details of all sales.