Firefighters attacked as they worked to save flats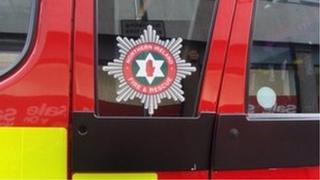 Firefighters were attacked as they tried to stop a blaze spreading to homes near a bonfire at the weekend.
The Fire Service said a crew was working to drench the roofs of houses near the 15 August bonfire in the Bogside, Londonderry, on Friday.
They spent more than three hours working to stop the fire spreading to flats, an electricity sub-station and local businesses.
Photographer Lisa Burn said: "The gutters were melting.
"The flats were getting a lot of heat and the Fire Brigade had to start hosing those down as the heat was so bad."
Ms Burn said she had gone down to document the bonfire.
"When I arrived they had just lit the fire and the fire brigade were already there," she said.
"It seemed to be leaning towards the shops at the back ... The gutters were melting and then it collapsed away from the shops ... The flames were intense, the heat was so bad, everyone had to back off.
"Even though the fire brigade were trying to put it out, it seemed not to be going anywhere."
Ms Burn said she was concerned when the bonfire collapsed. She said children were running about and the heat was intense.
People living in nearby flats had to leave their homes as fire crews worked to douse the buildings and stop the flames spreading.
In a statement, the Fire Service said several fire appliances were called to the scene and an aerial appliance was also called from Belfast for support.
"Fire crews worked in arduous conditions for over three hours, despite coming under sporadic attacks, to prevent loss of property to nearby residential flats, a Northern Ireland Electricity sub-station and a range of commercial premises," the statement said.