Newry mayor: Unionists' no confidence vote defeated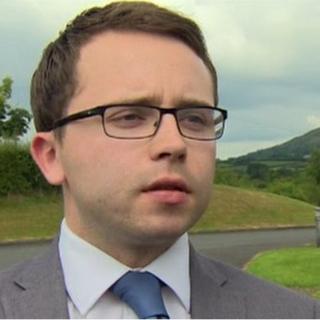 A motion of no confidence in the Sinn Féin mayor of Newry and Mourne District Council has been defeated.
Unionist councillors presented the motion at a council meeting on Monday night, in response to a letter councillor Dáire Hughes sent to traders in the area in July.
It asked them to consider not stocking Israeli goods.
Speaking after the meeting, Mr Hughes said he would continue to represent the people of Newry and Mourne "equally".
In the letter, Mr Hughes had also asked traders to provide a list of products they stocked from Israel to help customers to boycott Israeli goods.
Unionist councillors said he had no right to send it.
Newry and Mourne District Council said it was issued by an individual and had not been adopted by the council.
Mr Hughes said the motion had been "politically motivated" and was "not representative of the views of the citizens of the council".
He said: "It was also not about Gaza. This motion was tabled and supported by those who are opposed to Sinn Féin.
"I will continue to represent all the people of Newry and Mourne District Council equally as mayor.
"I will also continue to stand in solidarity with the people of Gaza and to call for a lasting and verifiable ceasefire and an end to violence in the Middle East."
Ulster Unionist councillor David Taylor said he was "disappointed" by the decision.
He said: "Despite the outcome of (the) vote it was important that councillor Hughes, and indeed other Sinn Féin representatives, were reminded that we do not live in some form of autocratic regime where they believe they can dictate to traders, or indeed the general population alike, how they go about their daily business."