Calls for inquiry after vote of no confidence in NI ambulance service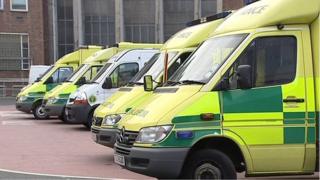 Members of the Northern Ireland Ambulance Service (NIAS) trade union have called for an external inquiry into how it is managed.
It comes after the NIAS branch of Unison said there had been a unanimous vote of no confidence in the service.
About 750 ambulance staff said they no longer had confidence in the trust board or in the chief executive.
The NIAS said it was "surprised" at the union's statement.
Speaking on BBC Radio Ulster's Evening Extra programme on Monday, Brian Ferguson from the union said morale among its members was at an "all-time low" because of a lack of resources, cancellation of annual leave, enforced overtime and insufficient rest periods.
"Staff are increasingly having to work additional hours after their shifts end for long periods of time, and are not being able to have meal breaks, which is causing high stress levels and fatigue," he said.
"Our problem is that it seems at director and chief executive level, they don't know how to manage the service. We are calling for a full external investigation into how the ambulance service is currently being run."
Staff shortages
The union said members were also angry and disappointed at recent comments by the NIAS director of operations, Brian McNeill.
He was speaking at the end of July, after staff shortages led to delays in the service's 999 response times.
During one weekend, almost one third of the ambulances normally on duty across Northern Ireland were unavailable because there were too few staff.
Following the delays in response times, the NIAS said it would carry out a review into its operations.
However, the union claimed Mr McNeill had placed the blame for the drop in ambulance cover on members phoning in sick.
At the time, Mr McNeill told the BBC's Nolan Show that a number of factors, including unfilled posts and late notification of sickness absence, had contributed to the weekend staff shortage.
In a statement issued after the vote of no confidence on Monday, the NIAS said: "The Northern Ireland Ambulance Service is aware of the statement issued by Unison.
"The trust is surprised at this development, given that in recent weeks we have been engaged in a joint two-day workshop and subsequent Joint Consultative Negotiating Council (JCNC) meeting with the unions to seek resolutions to issues of concern.
"There was no indication at either of these that this was a potential course of action. The trust will seek to engage with Unison, to discuss these issues, at the earliest opportunity."