War memorial damaged in sectarian attack in Glenavy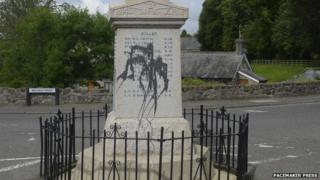 A war memorial has been damaged in an overnight sectarian attack on the outskirts of Lisburn, County Antrim.
Paint was thrown over the memorial in Glenavy on Sunday night.
It is the latest in a series of sectarian attacks on war memorials and Catholic churches in the area.
Sectarian graffiti was painted on St Peter's Church in Stoneyford and on St Joseph's Church in Glenavy on Friday night. Paint was also thrown over a war memorial in Stoneyford on Friday.
Ulster Unionist councillor Robbie Butler said it was escalating into a "tit-for-tat" situation.
Speaking on BBC's Talkback programme on Monday, he said: "I just wonder what is in people's heads when they're attacking something which the ordinary person holds so dear.
"It isn't even an attack on each other, so I'm not even sure what it's about.
"It's very important that at the earliest opportunity, we get together to show that these things won't be tolerated and there is no time for these types of actions in these villages."
SDLP councillor Pat Catney said the people responsible had "nothing to offer" the community and he was working with the police to ensure they would be caught.
Police said the incident was being treated as a sectarian hate crime.