120 BMW cars 'stolen to be broken up and sent to Latvia'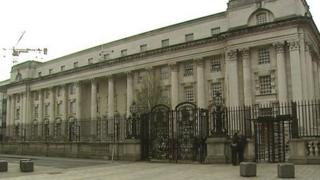 Up to 120 BMW cars stolen in a sophisticated cross-border key cloning racket were to be broken up and shipped to Latvia, the High Court in Belfast has heard.
An eastern European crime gang is suspected to be behind the theft of the cars from Dublin.
They then moved them to garages in Northern Ireland, prosecutors said.
Police in England have carried out searches as part of a joint investigation by gardaí and the PSNI.
The details emerged as bail was granted to one of four men charged in connection with the thefts that happened over the last 11 months.
Vitalijs Klagiss, 29, who is Latvian and has an address at Brackenwood Drive, Dublin, is accused of handling stolen property.
He was arrested along with the other suspects after police raided a garage in Enniskillen, County Fermanagh on 27 May.
They found eight cars, six of them BMWs, as well as parts taken from 10 other stolen cars, the court in Belfast was told.
A car alarm jammer, BMW key cloner and laptop computers have also been seized in various locations. Some of the equipment was found during a raid at Mr Klagiss' home, the prosecution said.
A prosecuting lawyer said two co-accused are believed to have travelled from England to help transport the cars.
Essex and West Midlands police have now searched properties linked to them.
"Police believe this gang are operating in different jurisdictions," the lawyer said.
"Approximately 120 BMWs were stolen from the greater Dublin area since September 2013."
She said that detectives believe eastern Europeans were breaking the cars up to be put in containers and shipped back to Latvia.
Motor insurance companies have also suffered losses, the court was told.
The lawyer said: "Since the arrests, there have been no reported thefts of BMWs in the Dublin area. Prior to this, they were almost on a nightly basis."
A defence lawyer argued that Mr Klagiss would not flee if released because his partner and family are now based in Ireland.
Mr Justice Weatherup accepted there was evidence that allegedly linked the accused to the crime.
Noting that Mr Klagiss has lived in Dublin since 2005, he ruled that bail should be granted on condition of a £5,000 surety.
The judge ordered him to live at an address in Belfast and not to leave Northern Ireland.