Rory McIlroy: the 'sartorial suit' that put Rory in bunker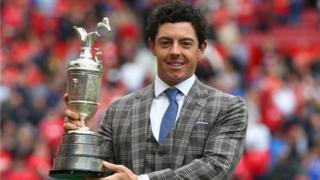 He went to Old Trafford to show off his Claret Jug, but Northern Ireland's world champion golfer Rory McIlroy scored an own goal with his choice of suit.
The 25-year-old set Twitter alight for all the wrong reasons at the weekend - his fans took their eyes off the ball and focused on his three-piece.
And some of them said Rory had landed himself deep in the fashion bunker.
There were no end of suggestions about who else walked out in similar checks.
"Rupert the Bear?" one tweeter suggested. "Mr Toad?" said another. "Noddy Holder?" suggested a third.
"That suit was last seen on John Wayne in The Quiet Man," somebody else joked.
People on the streets of Belfast told BBC NI's Good Morning Ulster that they were not sure.
"He looks like an optical illusion," said one.
"He must have had one or two clarets if he wears that," said another.
But Belfast hair stylist Paul Stafford admired Rory's courage.
"It looks like a Tom Ford suit. I thought Rory was very brave. It is very hard to pull off a suit like that. Weirdly, I think it did work for him," he said.
"He has changed his image. He is an A-lister and he probably has advisers. He has got the physique. It is a big departure for him. But he looks like somebody who should be strutting around in an expensive suit and why not?"
Belfast gentleman's tailor Chris Suitor said the suit was well made.
"Construction wise it seems very well put together. It has jetted pockets, working cuffs and it is a very fine fabric," he said.
"It wouldn't be what I would have worn, but maybe Rory is going to become a style icon.
"He has just won a couple of majors, he has so many millions in the bank, and he is just going to go for it."
Mr Suitor said Rory could have spent £3,000 or £4,000 on the suit.
"It is a mixture of a glen check and a tartan. For Rory to choose something like that, he obviously knew this was going to create some sort of reaction."
And he said he hoped the reaction would be in evidence at his own shop door in Belfast on Monday morning.
"I hope when I open at 09:30 BST this morning, I have a queue right out the door of men looking for Rory McIlroy suits," he joked.
Fellow golfer Ian Poulter just wanted his suit back. He was pictured wearing an almost identical model at Wimbledon in June.
When he saw Rory on the pitch at Old Trafford on Saturday, he tweeted: "Hey you can keep your Claret Jug but can I have my suit back please."
McIlroy tweeted back: "Sorry, you must be mistaken... this suit was only available with the Claret Jug."