Republic's time zone plan ludicrous, says Tom Elliott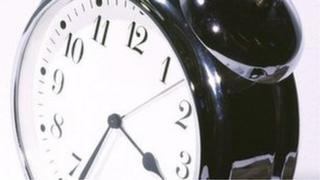 Proposals for a different time zone between Northern Ireland and the Irish Republic have been branded as "ludicrous" by a UUP MLA.
Tom Elliot questioned the impact of a bill, which aims to see the Republic of Ireland move into Central European Time, in border areas.
The Brighter Evenings Bill has been brought forward by Dublin politician Thomas Broughan.
The consultation period is due to close in September.
Mr Broughan, who is an Independent TD for Dublin Bay North, has proposed the legislation which would see the Republic undergo a three-year time zone experiment.
If his bill gets support, the clocks would move one hour forward as usual in March, but would not move back in October, bringing the state into line with most countries in Europe.
If agreed, it would mean people travelling between Northern Ireland and the Republic would have to adjust their watches as they crossed the border.
The Committee on Justice, Defence and Equality has invited submissions on the issues raised.
Mr Elliott said although there were different time zones across the United States and parts of Europe, a change across the British Isles was "just not needed".
"We have the likes of Belcoo in Fermanagh and Blacklion in Cavan which are essentially the same settlement divided by the border," he said.
"You cross a bridge between the two, and if these plans went ahead, you would be stepping into a different time zone.
"Then there is Belleek which is split across the border. The proposed change would affect dozens of border towns in Northern Ireland equating to thousands of people.
The Fermanagh and South Tyrone MLA also questioned what the change would mean for traders and bank transfers.
"It doesn't appear that much thought has been given to how this proposal might affect them at all. It seems ludicrous," he said.
Mr Broughan was not available for comment. He has previously said his bill could help the Republic's economy, as brighter evenings would boost tourism and create more jobs in the leisure industry.
He has also added it would reduce energy bills and could reduce crime and fear of crime, and may even save lives, by improving safety on Irish roads.