Big and bold vehicles on show at Belfast Truckfest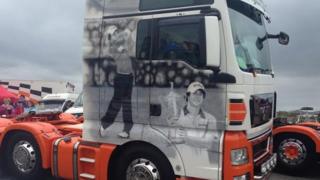 At the former Maze prison site, freight lorries and monster trucks filled the fields normally reserved for prize farm animals at the Balmoral show.
The largest event of its kind in Europe, truck drivers from all over the world arrived on Saturday to get a glimpse of vintage, modern and specially-customised freight vehicles.
Truckfest has been running for over 30 years, but it was first held in Northern Ireland in 2012.
The organiser of the event, Bob Limmons, said that in contrast to the recently cancelled Ulster Aviation Society open days at the site, the planning process for Truckfest had been problem-free.
"Looking at everybody enjoying the day it's very special," he said.
"I'm delighted to be here and the support has been fantastic, people have really embraced Truckfest which is great. Everyone's been very helpful at Balmoral and we look forward to being back again in 2015."
Spitfires
Despite the strict "no air horn" policy in place at the venue, there was a constant rumble of giant engines filling the grounds. On parade with the monster trucks were fire engines and even a PSNI truck.
Customised paint jobs paid tribute to figures like George Best, Joey Dunlop and now County Down golfer Rory McIlroy can even boast his very own truck.
Terry Maxwell, the owner of some of the sport-themed trucks on show, said he tried to add a new illustration every time Rory McIlroy scored a major golf victory - but thanks to Rory's latest successes he was beginning to run out of room.
He also explained why one of his trucks was covered with pictures of spitfires.
"We bought a Volvo truck this year and we decided to do something different to commemorate World War Two," he said.
"The Belfast Telegraph spitfires were all named after the counties and areas they were bought in, and the aircraft shown on the left side of the was (named after) County Down."