Field Marshal Montgomery Pipe Band wins tenth world title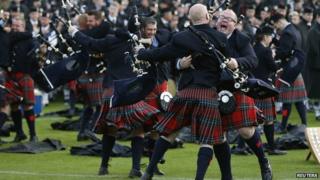 The most successful pipe band of all time has won a tenth world title at the World Pipe Band Championships in Scotland.
The Field Marshal Montgomery Pipe Band has now defended its title in the top division for the fourth year in a row.
Based in Lisburn, County Antrim, the band was founded almost 70 years ago.
Another band from Northern Ireland, Bleary and District from County Down, also performed well, coming second in grade two of the competition.
'Premiership title'
Northern Ireland's drum majors also dominated this year's championships, claiming 15 of the 18 available prizes.
Drum major Zoe McDowell won the Junior World Championship title and Lauren Abraham took home the Juvenile World Championship title.
David Scott of the Pipe Band Association of Northern Ireland praised the achievements of all the local competitors and said Northern Ireland's pipe bands were "leading the way".
He added that Field Marshal Montgomery's latest success was a landmark.
"This is the equivalent of Manchester United winning the Premiership title in football.
"Field Marshal Montgomery have won their fourth consecutive title and their tenth world championship title."
'Unbelievable'
He added it was a "big achievement for a pipe band from Northern Ireland to take on the world".
Pipe Major Richard Parkes, who has led the band since 1981, said it was "unbelievable" and a "great feeling" to win again.
"I think the competition is getting closer and closer every year and I listened to some of the bands after we played and they were absolutely tremendous," he said.
"The standard of bands at the moment is very high and to win it four years in a row, with that standard of bands, is a great feat."
The band was founded at the end of World War Two, by a group of farmers' sons in the townland of Drumalig, on the outskirts of Belfast.
It was named in honour of Field Marshal Bernard Law Montgomery, one of the heroes of the war, who personally gave his blessing when the musicians wrote to him, asking to use his name.
The band won their first world championship title in 1992.
When they collected their ninth title last year, the chairman of the Royal Scottish Pipe Band Association Northern Ireland Branch, Ray Hall, hailed their success as unprecedented.
"The Field Marshall Montgomery Pipe Band is now the most successful pipe band of all time in the world," Mr Hall said.