Abusive phonecalls made to Belfast Rabbi David Singer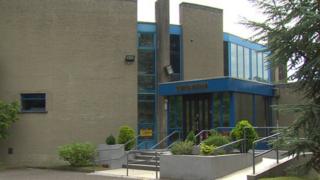 A Belfast rabbi has said the situation in Gaza has resulted in attacks on the Jewish community living in Northern Ireland.
Rabbi David Singer said as well as attacks on property, there had abusive phonecalls.
"We had a brick through the window of the synagogue, unpleasant phonecalls.
"Unpleasant on a personal nature and unpleasant on an anti-Israel nature, unpleasant on an anti-Semitic nature as well," he said.
"These are phonecalls to us personally."
On Tuesday, it emerged that a plaque erected to former Israeli president Chaim Herzog at his former home in north Belfast had to be removed after a number of recent attacks.
Last month windows were smashed at a synagogue on north Belfast's Somerton Road.