Arlene Arkinson murder: Sister in appeal to two women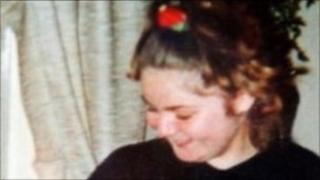 A sister of murdered teenager Arlene Arkinson has called for two women whose blood was found during a search linked to the investigation to come forward.
Fifteen-year-old Arlene, from Castlederg, County Tyrone, went missing in August 1994 after a night out at a disco in Bundoran, County Donegal.
In 2012, a derelict flat at Main Street in Castlederg was searched after new information became available.
Specimens of blood belonging to two women were found during the search.
"I appeal to them to come forward," Kathleen Arkinson said.
"There are people in the Castslederg area who still have information."
A number of searches for Arlene's body have been carried out at various locations, but she has never been found
In 2005, convicted child killer Robert Howard was acquitted of the teenager's murder. The jury was unaware he had a history of sex attacks and that two years earlier he had been found guilty of murdering Hannah Williams, 14, in south London.
Kathleen Arkinson said they just wanted to give Arlene a proper burial.
"Every door we've opened we've got it closed, but we will continue on to get justice for Arlene and finally get her and put her in beside my mother and father and my other sister Mary," she said.
"We just want to know where Arlene is, to bring her home and give her a decent burial."
On Thursday, the officer now leading the investigation, Detective Superintendent Karen Baxter, said the blood found in the flat belonged to two different women.
"Tests have confirmed they are not from Arlene. But neither specimen has registered on the national DNA database," she said.
"On the 20th anniversary of Arlene's disappearance, I would ask that any woman who was in this flat, at 49a Main Street which has since been demolished, at any time to make contact with police.
"They have a story to tell and we want to hear it. Twenty years on, they just need to get over the fear, get over what their concerns are and please come forward and speak to us."