Sean-Paul Carnahan's hospital death investigated by police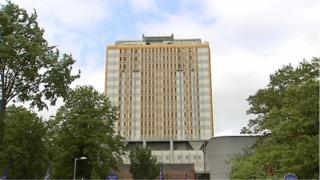 The police have confirmed they are conducting inquiries into the death of a 22-year-old man at Belfast City Hospital more than a year ago.
Sean-Paul Carnahan died five months after he was admitted with a brain injury, having tried to kill himself.
His mother, Tracy Carnahan, made a police complaint about his care in his hospital, claiming staff allowed him to "waste away" and "starve to death".
The details emerged at a preliminary inquest hearing into his death.
Mr Carnahan, from the Beechmount area of west Belfast was admitted to Belfast City Hospital in March 2013, after he tried to take his own life.
He had been a regular user of legal highs and was left brain-damaged by the suicide attempt.
At a preliminary inquest into his death in Belfast Coroner's Court on Friday, it emerged his mother has made a complaint to the police about his care.
Speaking after the court hearing, she claimed her son "died of starvation" because staff at Belfast City Hospital "gave up on him".
"I had to watch my child die - waste away in front of my eyes and when my child died he was six foot and he died at five stone, and I am traumatised by it," she said.
"I thought when I put my child into the trust's care, they are there to get better, not to be basically starved to death."
Mrs Carnahan said although her son was very ill and could neither "walk, talk or swallow" while he was in hospital, she said he showed signs of recognition and responded to stimuli.
She said she was fighting for her son and wanted to find out what had happened to him.
During Friday's hearing, the coroner queried whether Mrs Carnahan's allegation of neglect constituted one of alleged corporate manslaughter.
The solicitor for Mrs Carnahan and the solicitor for the Belfast Hospital Trust agreed that it did.
No arrangements for holding the inquest can be made before the outcome of the Police Service of Northern Ireland's investigation of Mrs Carnahan's complaint.
In a statement the Belfast Health Trust has said it offered its "sincere sympathy to the Carnahan family on the death of Sean Paul.
"However it is inappropriate for the trust to make any comment while there is an ongoing legal process."