Obituary: Gerry Anderson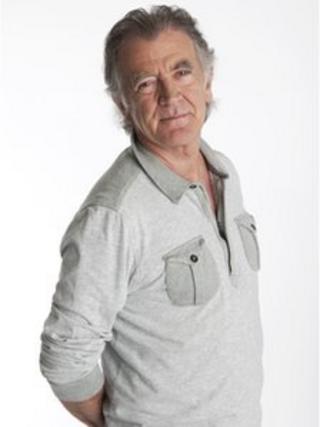 To radio and television audiences, Gerry Anderson meant humour, music and a wry look at life.
Born in 1944 in his beloved 'Stroke City' - the term he coined for Londonderry/Derry - he soon showed a talent for music and performing.
His unique style of broadcasting made him a household name in Northern Ireland.
He won acclaim and audience affection for his daily show on BBC Radio Ulster and for TV programmes like The Show and Anderson on the Box.
Self taught, it was as a guitarist he first introduced himself to audiences.
Ability to connect
An early break came on the Manchester music scene, where he worked the clubs.
Tours of the UK and abroad followed with the showband, The Chessmen, and while living in Canada, he joined a band called Ronnie Hawkins and the Hawks.
But after a few years, the excesses of life on the road lost their appeal and in his own words, Anderson "dropped out of rock and roll and went to university".
Returning home to Derry, he settled long enough to study for a degree in sociology and social anthropology, and then came a postgraduate diploma in education.
A teaching career followed, but it soon became clear Gerry's place was in a radio studio or in front of a TV camera.
As a daily radio show presenter and chat show host, his wry humour, musicality and ability to connect with people resulted in an array of awards.
Sense of the ridiculous
The director of BBC Northern Ireland, Peter Johnston, led tributes to the broadcaster, describing him as a man of "great wit and mischief".
"I had the great pleasure of being in London on the occasion when Gerry was awarded the Hall of Fame for the UK Radio Academy, which just demonstrated what a true legend of the industry he was, a really significant figure," Mr Johnston said.
"I think in Gerry's case - it's often said lightly but in his case truly, I don't think we'll ever see his like again."
From a showband guitarist to chat show host and even whimsical documentary maker, Gerry Anderson attracted audiences by his casual approach and sense of the ridiculous.
A brief spell with Radio 4 proved to be an awkward mismatch, but years later he found a role making documentaries for the station.
Back home in Northern Ireland, audiences still loved him and so did his competitors.
Final goodbye
His one-time rival and long-time friend, Gerry Kelly, hosted a TV show that aired at the same time as one of Anderson's BBC series.
"We joked and laughed about it - let the public argue," Mr Kelly said.
"But I have to say that Gerry Anderson was one of the most innovative and clever broadcasters that it has been my privilege to know.
"He was unique in Northern Ireland, absolutely unique. He was unique in the whole of the United Kingdom."
Always looking for the giggle in everyone and every situation, Gerry Anderson has said his final goodbye, leaving us with memories of not so much what he said, but the whimsical and tender way he saw life.