Carryduff robbery: Gang 'threatened to cut off fingers'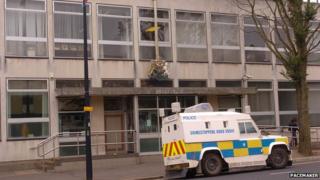 Armed robbers threatened to cut off a man's fingers and tied up his elderly parents, a court has heard.
Newtownards Magistrates Court was told a three-man gang burst into the house in Carryduff last September and threatened the family with a gun.
The court heard the 82-year-old man and his son had just arrived home from their business in Ballynahinch when they were accosted by the gang.
The judge refused bail to Kieran Smyth, 54, of Springfield Avenue, Belfast.
Kitchen knife
He is charged with robbing £6,000 in cash, cheques and jewellery, false imprisonment, making a threat to kill, possessing a gun and a knife with intent to commit robbery and the theft of a car.
The court was told the father and son were forced into the house, where they were tied up along with a 76-year-old woman.
One of the gang picked up a kitchen knife and threatened to cut off the son's fingers if he did not hand over cash, the court heard.
The gang drove off in the woman's car, which crashed in south Belfast after a short police chase, the judge was told.
The accused and another man were allegedly arrested at the scene where items including cash and the son's Rolex watch were found.
A defence lawyer said there had been a significant delay in the case since Mr Smyth's arrest, and given his archaic criminal record, his client was suitable for bail.
However, the judge refused to grant bail, and the accused is due in court again next month.