HSENI safety inspectors plan unannounced building site checks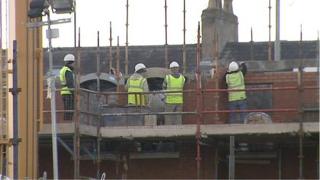 Safety inspectors are due make a series of unannounced visits to building site in Northern Ireland to tackle the risks posed to construction workers.
The checks will be carried out by the Health and Safety Executive for Northern Ireland (HSENI).
Building sites could be shut down if inspectors identify work practices that are putting staff in danger.
The HSENI's two-week programme of site checks is due to begin on Monday 1 September.
'Lax attitude'
The inspectors will focus on the dangers posed by working at height, working with asbestos, the control of silica dust and use of mechanical lifting equipment for heavy materials.
HSENI's construction group spokeswoman, Nancy Henry, said: "Construction is one of the more dangerous industries and a lax attitude to health and safety costs people's lives.
"Many accidents and risks to health are completely avoidable by putting in place very simple and sensible measures that are well known across the industry.
"HSENI will continue to provide advice to the industry but, as we've demonstrated in previous years, HSENI will not hesitate to take action if we find poor practices that are putting the lives of workers at risk."
The visitors will also inspect "welfare facilities" provided for workers on building sites, such as canteens and toilets, checking that they are clean and have warm running water, soap and towels.