Patrick Malachy Gordon admits having bomb-making list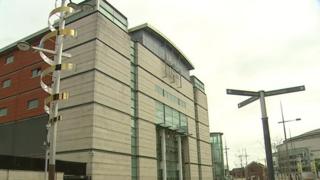 A man who has already served a jail term for having a mortar bomb has now admitted possessing documents related to bomb-making and weapons.
Patrick Malachy Gordon, originally from Newtownhamilton Road, Armagh, has just completed a prison sentence imposed by a court in the Republic of Ireland.
He was caught with a mortar bomb and tube in County Louth in November 2010.
At a Belfast court on Thursday, he pleaded guilty to four counts of having documents of use to terrorists.
'Action film'
Gordon admitted having a handwritten note listing material suitable for use in the manufacture of 'Napalm-type' incendiaries, electronic files containing a diagram of a pipe shotgun and instructions on how to make and detonate ammonium nitrate.
The diagrams on making a bomb and an improvised firearm were allegedly retrieved by police as they examined deleted files on his mobile phone.
During a search of his home in Armagh, officers also found a handwritten list of ingredients for a bomb under his bed.
The offences date back to February 2010 and at the time, Newry Magistrates' Court heard that Gordon became curious about bomb-making after watching an action film.
Due for release
Although remanded into custody, Gordon was released on High Court bail in Belfast the following month.
But in November 2010, he was caught with a mortar tube and mortar on Commons Road, Dromiskin, County Louth.
The following year, he was given a five-year prison sentence for possession of the mortar bomb.
Having served two thirds of the sentence, it is understood Gordon was due for release last month.
He is now expected to be sentenced in Belfast next month, for the four counts of possession of documents of use to terrorists.