Northern Ireland weddings: Fewer and older brides and grooms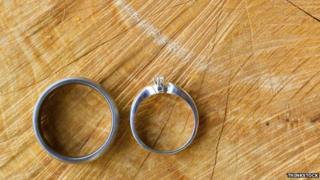 Fewer people are getting married in Northern Ireland and those who take the plunge are waiting longer to do so, according to official figures.
Last year, there were 8,126 marriages, down 4.2% on the 2012 figure of 8,480, the Northern Ireland Statistics and Research Agency (NISRA) said.
About 30% of marriages in 2013 - 2,499 - were civil ceremonies.
Brides were aged 31 on average, while grooms were 34; about five years older than the figures from two decades ago.
When it comes to people getting married at a younger age, 14% of brides and 6.8% of grooms last year were aged under 25. Ten years ago, the figure was 24% for women and 12% for men.
One hundred same-sex civil partnerships were registered in 2013; just one fewer than the year before.
The number of divorces last year - 2,403 - was just four more than the previous year. NISRA said this figure was comparable to the average over the last two decades "and notably lower than the peak of 2,913 divorces recorded in 2007".
Two Saturdays were the most popular days for weddings in 2013, with 93 couples getting married on both 17 August and 28 September. The number of weddings varied throughout the year, from just 200 in January to 1,305 in August.
Marriages
Neither partner previously married (%)
Living together before marriage (%)
Divorcees
Northern Ireland
8,126
81.22%
51.39%
4,806
Antrim and Newtownabbey
397
78.59%
53.15%
368
Armagh, Banbridge and Craigavon
788
82.49%
43.15%
547
Belfast
1,352
76.26%
58.36%
822
Causeway Coast and Glens
686
83.38%
47.38%
391
Derry and Strabane
636
86.64%
47.01%
332
Fermanagh and Omagh
718
86.63%
47.63%
216
Lisburn and Castlereagh
469
81.88%
60.55%
342
Mid and East Antrim
742
77.22%
54.72%
413
Mid Ulster
680
86.32%
36.91%
249
Newry, Mourne and Down
874
85.58%
49.31%
316
North Down and Ards
784
72.70%
63.52%
492
District area unknown
318