£17m EU funds for refurbishment of Belfast-Dublin railway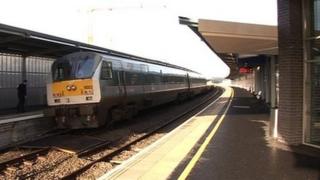 The European Union is to invest £17m in two cross-border railway projects.
The work includes refurbishment of rolling stock for the Belfast-Dublin Enterprise service and the Boyne viaduct in Drogheda, County Louth.
The projects are scheduled for completion in 2015.
The Department for Regional Development (DRD) in Northern Ireland and the Department of Transport, Tourism and Sport (DTTAS) in the Republic are to match the EU funding.
Twelve million pounds has been allocated for an upgrade to the Enterprise service, including overhaul of the trains' mechanical systems, new interiors, new livery and a new electronic passenger reservation system.
The EU's INTERREG IVA programme is also providing funding for work on the viaduct, which carries the Belfast-Dublin railway line across the River Boyne.
Refurbishment of the viaduct, which was built in 1885, will include steel repairs, track renewal and a new drainage system.
Pat Colgan, chief executive with the Special EU Programmes Body (SEUPB), said: "Both projects will enhance one of our main cross-border infrastructure links, thereby supporting trade and tourism development for a more prosperous and sustainable region".
DRD Minister Danny Kennedy welcomed the investment.
"I am confident that these very significant improvements will attract even greater numbers of passengers in the future and help raise awareness, in much wider terms, of the benefits of rail travel," he said.
Irish Transport Minister Paschal Donohoe said the investment was "a big win for everyone living along the Belfast-Dublin rail corridor".
Figures published in 2013 showed passenger numbers on the Enterprise had dropped by 22% over the previous 10 years.