DVLA changes: NI minister criticises Swansea staff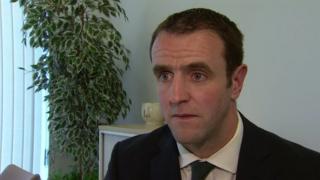 A Northern Ireland minister has accused DVLA staff in Swansea of "dropping the ball" after motorists reported problems taxing and registering vehicles.
Mark H Durkan said "several hundred" customers had been affected "badly" by the transfer of vehicle licensing and registration functions to Wales.
UK Transport Minister Robert Goodwill said problems with records had been expected ahead of the centralisation.
But he said 96% of vehicle records "did migrate successfully".
Mr Goodwill told BBC Radio Ulster that the issues should be resolved "within a month or so".
'Technical difficulties'
The centralisation of vehicle licensing and registration in Swansea was a controversial move, because it resulted in the loss of more than 260 jobs in Northern Ireland.
Most of the staff who are being made redundant were based at the Driver and Vehicle Agency (DVA) office in Coleraine, County Londonderry.
The work was transferred in the middle of July, but this week, car dealers in Northern Ireland have reported "massive problems" in their attempts to register new cars.
There have also been particular problem for drivers changing number plates.
The DVLA said technical difficulties had affected a small number of drivers.
However, Northern Ireland's environment minister has said the Swansea office needed to "up its game".
Mr Durkan's department previously had responsibility for the service in Northern Ireland, before the jobs moved to Wales.
'Flagged up'
He told BBC Radio Ulster's Evening Extra programme that if driver or vehicle data had been lost during the transfer then "it was certainly not lost at our end".
"DVA staff engaged fully with DVLA during the preparation for service transfer and during service transfer.
"The data was, to our knowledge and our belief, fully transferred and if the ball has been dropped - it's been dropped at the Swansea end.
"It's not a case of looking at this with hindsight and saying that these problems were inevitable, these were flagged up beforehand."
Mr Durkan said potential teething problems had been identified and discussed in conversations between his officials and DVLA staff before the transfer.
"It's not just in one aspect, there seem to be difficulties right across here," he added.
'Blame'
The minister said motorists in Northern Ireland had been "very well served" by DVA staff in Coleraine for a long time, and had become accustomed to good service, with high rates of customer satisfaction.
"I'm not on here to shout and give the blame to Swansea, although I'm conscious that I have laid the blame were I firmly believe it belongs, but we do want to work on solutions," Mr Durkan said.
The UK transport minister told the programme: "The basic fact is that 96% of the records did migrate successfully".
"We'd always expected there would be a few problems," Mr Goodwill added.
'Working through'
"One example - in Northern Ireland you have a wider range of colours that you classify cars in.
"You may have different shade of blue - we just have blue - and therefore, in some cases it hasn't transferred.
"Other ones, where there has been an address that didn't quite meet up or didn't quite add up, where we've got cherished transferred of personalised number plates and of course, one or two cases where we've had vehicles purchased in England, Scotland or Wales which have been re-registered in Northern Ireland."
Mr Goodwill said after the transfer had taken place, DVLA staff "knew immediately" which records had not transferred successfully and were now working through those cases and were hoping to "get on top of those quite quickly".
"We should certainly have it sorted out within a month or so," he added.