Cambridge House: Progress of a school with problems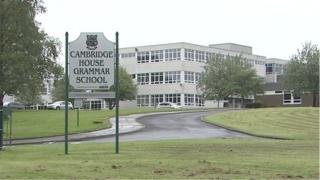 A school that had been the first grammar in Northern Ireland to need formal intervention has made steady progress over the last two years.
Cambridge House school in Ballymena, County Antrim, was placed in formal intervention three years ago, after it failed a school inspection.
Intervention is a process by which education authorities provide intensive support to struggling schools.
In the last two years the school's exam results have shown marked improvement.
Back in 2009, the Education and Training Inspectorate (ETI) carried out an inspection of Cambridge House and, while it was complimentary about some aspects of teaching and leadership, it found the performance at both GCSE and A-level was well below the average for similar academically selective schools.
'Inadequate'
At A-level, 42% of students got three or more A-levels at grade C or above. The Northern Ireland grammar school average for that measure is 77%.
Inspectors said the standard of teaching in a small number of classes observed was inadequate, although the majority of teaching was good or very good.
They added there was not enough provision for the small minority that needed additional support with learning.
However, they said Cambridge House was in the process of developing a system to identify pupils in danger of falling behind.
Just over two years later, the inspectors returned for another look.
In April 2011, they found that standards in GCSE showed improvement but at A level, results had worsened and were described as "inadequate".
The percentage of students getting three or more A level at grades A-C had fallen from 42% to 40%.
'Urgent improvements'
There was criticism of the quality of teaching in sixth form: the majority of classes were judged to be either inadequate or just satisfactory.
Inspectors said there was not enough monitoring and evaluation of pupils' progress.
Urgent improvements were said to be needed in careers education, and in the standard of learning and teaching, as well as leadership and management in sixth form.
In June 2011, Cambridge House became the first grammar school in Northern Ireland to be placed in formal intervention.
In October 2012, another report detailed the extra support the school received from the Curriculum Advisory Service (CASS), and from the North Eastern Education and Library Board.
School leadership
The inspectors found that results at A-level had improved significantly, although they were still well below the Northern Ireland average for a selective grammar school.
The percentage getting three or more at A* to C grades rose from 40% to 57% within one year.
The improvements noted included:
The quality of lessons
Data being used to track pupil progress
Better careers guidance
However, inspectors said that despite the improvements, more needed to be done and they advised that school leaders should take a more consistent approach to improving the quality of learning and teaching.
They were concerned that standards at GCSE had actually fallen. The number getting seven or more subjects at A*- C were down from 80% to 62%.
In March 2013, the school came out of formal intervention.
Six months later, in October 2013, there was more stability in the school leadership, the pupils were said to be more keen to learn.
'Well-targeted intervention'
At A level, the proportion gaining three or more high grades had gone up from 57% to 68%.
In GCSE, the proportion getting seven or more high grades had risen from 78% to 92%.
The performance of pupils who were entitled to free school meals showed an improvement, thanks to what was described as "well-targeted intervention and support".
Those getting five or more good grades, including in English and maths, went up from 50% to 91% in 2013.
'Pride and disappointment'
Cambridge House staff were hoping for a further improvement this year, to prove that the school was really on the road to recovery.
However, on Thursday there was a mixture of pride and disappointment as the 2014 A level results were revealed, as the school narrowly missed out on its target.
Its overall A level performance had improved, but there was a slight fall in the number of A* to C grades.
Cambridge House principal Elma Lutton said: "When we analysed it yesterday, we were hard-pressed to see exactly where it had happened and we suspect that it's just in a couple of incidents.
She added: "Two pupils can make a considerable difference, and in fact, we are going to be challenging some of those marks because we don't see them as being right."
Cambridge House staff and outside advisors have worked hard to achieve the improvements to date, but they know more work remains to be done.