Plans for walkway and cycle path at Giant's Causeway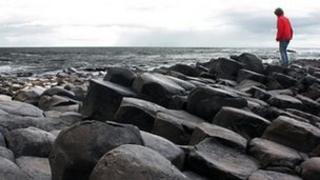 Plans are being developed for new walkway and cycle paths at the Giant's Causeway, County Antrim.
The proposal is for a two-mile link between Bushmills and The Aird, a hamlet to the east of the Causeway.
Regional Development Minister Danny Kennedy said that "given the potentially high costs involved, any scheme delivery will need to be carried out in stages".
He said his department had discussed the matter with the National Trust.
The Department for Regional Development says an initial one-mile stage from The Aird to the Causeway is at the preliminary design stage.
Mr Kennedy said: "I recognise that tourism is very important to the Northern Ireland economy and the Causeway Coast is one of our most beautiful and scenic areas which is very popular with sightseers from here and overseas."
"I am keen to provide any infrastructure such as footpaths and cycle paths which help to boost tourism and also encourage people to become more active."
Emma Cameron, chairperson of the Giant's Causeway Community Association, said they had been advocating the building of a cycle walkway for many years.
Ms Cameron said the main issue was people walking and cycling along the road from Bushmills in heavy tourist traffic.
"It seems a no-brainer from the safety point of view," she said.
Gordon Clarke from the cycling charity, Sustrans said it would be supportive of the development provided it was well-planned and sensitive to the environment.
"We want to see more of these routes right across Northern Ireland," he said.
In May 2014 the route of the Giro d'Italia cycle race passed close by the Causeway.