NI unemployment figures fall by 1,400 in July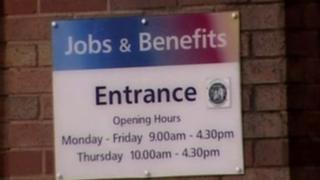 The number of people claiming unemployment benefit in Northern Ireland fell by 1,400 in July.
It is the 19th fall in a row and means there are now 52,700 people claiming. That is 5.9% of the workforce, almost twice the UK average figure of 3%.
There has been a fall of almost 10,000 in the unemployment claimant figures over the last 12 months.
The second measure of unemployment, the Labour Force Survey, also shows unemployment continuing to fall.
The quarterly unemployment rate in the period April - June 2014 was at 6.7%, down 0.5% over the quarter and by 0.8 percentage points over the year.
That is slightly above the overall UK average rate of 6.4%.
Most new jobs in Northern are coming from the service sector - it added 2,600 jobs over the quarter.
In percentage terms manufacturing saw the strongest jobs growth, up 1.2% over the quarter and 4.5% over the year.