Gas to West: Mutual Energy and SGN are selected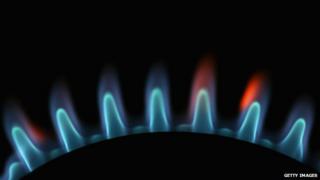 Two companies have been selected as preferred bidders to build a new gas pipeline serving the west of Northern Ireland.
The Gas to the West project will serve Strabane, Omagh, Enniskillen, Derrylin, Dungannon, Coalisland, Cookstown and Magherafelt.
The winning bidders are Mutual Energy and Scotia Gas Networks (SGN).
Mutual controls the gas pipeline between Scotland and Northern Ireland while SGN owns networks in Scotland and the south east of England.
Gas to the West will allow up to 40,000 new customer connections and should allow some big industrial operators to significantly cut energy costs.
The scheme will cost about £200m.
Up to £32.5m of that will come from the Department of Enterprise.
The project has two parts: a high pressure pipeline and a low pressure distribution network which will deliver the gas to individual connections.
Mutual has been selected to develop the high pressure part, while SGN will develop the low pressure element.
Enterprise Minister Arlene Foster welcomed the news which, she said, was an important stage in the £200m Gas to the West project.
"This will offer natural gas to up to 40,000 business and domestic consumers," she said.
"As the cleanest burning fossil fuel, natural gas offers a greener, more efficient and convenient alternative to oil and coal. It will help to lower manufacturing and production costs for companies and improve business competitiveness.
"In addition, it will provide domestic consumers with greater choice and benefits such as easier budgeting of energy costs by opting for a gas pre-payment meter."