Israeli president's plaque in Belfast removed after attacks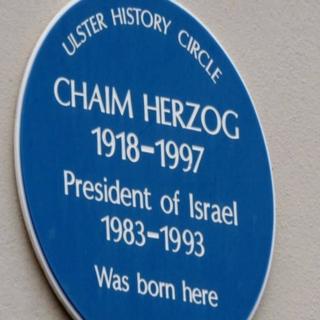 A plaque marking the birthplace of an Israeli president in Belfast has been removed following a series of attacks.
An Ulster History Circle blue plaque was erected to Chaim Herzog on a property at Cliftonpark Avenue in 1998.
DUP councillor Brian Kingston said it had been taken down out of concern for staff and residents living in adjoining premises.
Ulster Unionist Bill Manwaring said the attacks were a "damning indictment of the intolerance" among some people.
Herzog was born in Belfast in 1918 but his family eventually emigrated to Palestine.
He held a number of positions in the newly created state of Israel in 1948, including Ambassador to the United Nations and president between 1983-1993.
Councillor Kingston said anti-Israeli graffiti had been scrawled on the building where he was born and objects had been thrown at the plaque and the house.
"Recently some youths were stopped in the process of trying to remove the plaque with a crowbar," he said.
"Out of concern for staff and for residents living in neighbouring houses, the community group and the Ulster History Circle have decided that it was best to remove the plaque for the foreseeable future, and it was removed at the end of last week.
"This is a shocking indication of the level of tension and anti-Semitism which currently exists in parts of Belfast.
"It is disgraceful that this item of Belfast history has being repeatedly targeted due to its connection with Israel. This should serve as a wake-up call for the public to the dangerous level of intolerance and the anti-Israeli mentality which some are encouraging."
Bill Manwaring of the Ulster Unionist Party also condemned those who forced the removal of the plaque.
"If those that forced its removal are not trying to rewrite history, then they are demonstrating their ignorance of it," he said.
"Those that have been engaged in this have demonstrated incredible intolerance. Belfast has a shared history and we are meant to be building a shared society. These actions demonstrate the opposite.
"Given the attack on the synagogue last month and now this, it shows that some people's hearts and minds remain full of hatred."