Game of Thrones Belfast studio extension gets go ahead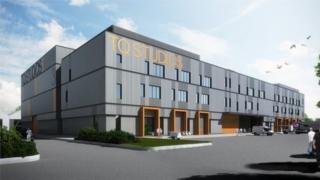 Planning approval has been granted to extend the film studios in Belfast where Game of Thrones is partly filmed.
The £14m extension will almost double the space at Titanic Studios, which incorporates Harland and Wolff shipyard's former Paint Hall building.
Permission to build two new studios and other production facilities was granted by Environment Minister Mark H Durkan.
He said building the studios would "put Belfast on the map as one of Europe's largest film production locations".
Titanic Studios were put on the map in 2007 when used for the science fiction movie City of Ember, starring, among others, Tim Robbins and Bill Murray.
Solar panels
Since then, the first and deputy first ministers, Peter Robinson and Martin McGuinness, have used trips to the US to promote the studios.
Analysis by Northern Ireland Screen suggests that the existing studios have been worth £120m to the local economy.
Backers of the Titanic Quarter project have said that the HBO series Game of Thrones - which uses the existing facilities and also films at locations in Northern Ireland - is driving demand for additional space in Belfast.
In announcing his approval of the project on Tuesday, Mr Durkan said he welcomed its plans for using sustainable technology including a roof-mounted solar panel system.
"These photovoltaic roof-mounted panels convert solar radiation into electricity which reduces costs - a win-win for business and the environment," he said.
"Developments like this are leading the way in helping Northern Ireland move towards a low carbon economy."