Northern Ireland team takes 53 medals at Bolton games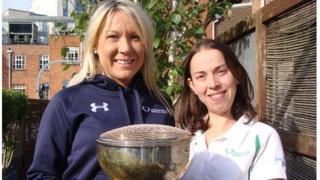 The Northern Ireland transplant team has returned with 53 medals from the British Transplant Games in Bolton.
The team of 36 adults and 12 children took home the coveted Rosebowl for the best overall performance.
In total, they won 17 gold, 20 silver and 16 bronze medals.
They hope their achievements will inspire even more people to join the donor register in Northern Ireland and boost the number to more than 600,000.
The games were held over four days and competitors took part in archery, football, tennis and athletics.
Kathryn Glover, 33, from Ballygowan took home two gold medals, two silver and a bronze in swimming, tennis and discus.
"The Belfast team has won the Rosebowl 14 times since 1978," she told Radio Ulster's Good Morning Ulster on Tuesday.
"But this year, we were extremely proud to win because we have a number of new members. It was a real shock, but it was fantastic.
"The team put in an amazing performance over the four days, showcasing the gift of life and the amazing success of transplantation."
But despite all her wins, the highpoint for Kathryn, who received a kidney transplant in 2009 after four years in dialysis, was the opening ceremony.
"That was the most emotional part of the four days," she said.
"The ceremony starts with a big parade of all the teams and the donor families are given pride of place at the end of that parade. There are a lot of people who well up because without them we would not be here.
"They find us inspirational, but we find them truly inspirational."
She said her life had been transformed by her transplant.
"Before that, I was on ten hours of dialysis overnight at home. All I remember doing was eating, sleeping, working and dialysis. It was not really a quality of life.
"The transplant has changed my life. Now, I am hoping to qualify for the world games in Argentina next year."
Sharon Millen from Waringstown ran her way to a silver and three bronze medals.
"It is my second time at the games. We really bonded as a team and it is a family atmosphere with all of the donor families there too - without those people we would not be there today," she said.
"The total number on the organ donor register in Northern Ireland stands at 590,000. We want to make that well over 600,000."
The British Transplant Games encourages those who have received a transplant to lead active and healthy lives while showcasing the benefits of transplantation.
The aim is to raise awareness of the need for more people to sign on to the NHS Organ Donor Register.
In the UK, 10,000 people are waiting for a life saving transplant, and three die each day waiting.