Thieves take £300 potatoes from County Down farm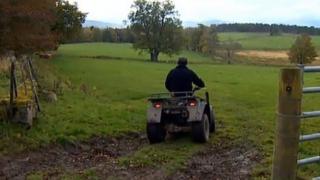 A County Down farmer has described the moment when he went out to discover that a quarter of an acre of potatoes - worth £300 - had been stolen overnight from his field.
The theft happened two weeks ago at William Gilmore's farm in Newtownards.
"I went into the field early to spray and there was a quarter of an acre of potatoes gone - wiped out," he said.
"It wouldn't be difficult, you cannot secure every field."
But Mr Gilmore said this was just one in a series of thefts across County Down from farmers' properties.
"In the last number of months, a flat trailer has been taken and there was a white diesel theft.
"One night, another farmer had his workshop cleaned out of tools, a horsebox was taken. Two cattle trailers and two flat trailers have been stolen over two years."
Mr Gilmore said he was also concerned because the potato crop had been treated with slug pellets and eating them could cause problems.
Jim Shannon, DUP MP for Strangford, said theft was "a severe issue" in the county.
"We have organised crime gangs in the rural community systematically targeting farms when they know the farmer will not be there," he said.
"A police superintendent said he was aware that some of the tractors stolen had been broken up and ended up in Africa.
"It is very clear to me that we have organised crime gangs who see this as a lucrative business."
Mr Shannon said the police had come up with new ideas including neighbourhood schemes to stop rural crime.
The PSNI said they fully investigate all reports of rural crime and were aware of the distress and inconvenience caused to victims.