Ten injured as Strangford Lough regatta hit by storm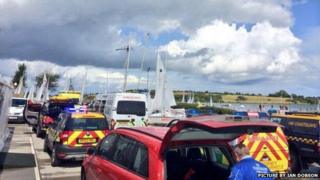 Ten people have been injured during an international boating event on Strangford Lough in County Down.
A major rescue effort got under way after 87 sailing dinghies were hit by a sudden squall.
Initial reports suggested up to 100 people, including children, were in the water. However, the coastguard has since confirmed that 20 went overboard.
Everyone has now been rescued. A major incident was declared at a nearby hospital but has since been stood down.
A spokesperson for the Ulster Hospital in Dundonald said two people had been taken to the hospital with minor injuries.
The injured were treated by the Northern Ireland Ambulance Service, which set up tents at the scene. Most of those being treated showed signs of hypothermia.
Liam Colquhoun, watch manager at Belfast Coastguard, confirmed the search and rescue operation had been a success and was called off within three hours.
"We have now been told by our rescue units on scene that everyone has safely returned to shore and that no one is missing," he said.
"We believe 20 people ended up in the water after their boats capsized this afternoon, 10 of them requiring medical attention.
"The weather conditions on scene have been pretty treacherous, with winds gusting up to 60mph. We're very thankful that everyone has now safely returned."
A GP14 world championship event was being held on the lough near Killyleagh.
A spokesperson for the event said the first race had been due to take place at 11:55 BST on Monday but it had been cancelled due to bad weather.
Competitors were on their way back to shore when the incident happened.
It is not known how many children were involved, but they are thought to be aged between 13 and 18.
Ian Dobson, a world champion dinghy and yacht racer, who was taking part in the event, praised "the well executed response and safety procedure deployed by the organisers".
The Bangor and Portaferry Coastguard rescue teams, the Portaferry and Newcastle RNLI lifeboats, the Irish Coast Guard helicopter along with the helicopter from RAF Valley are helping in the rescue effort.
The GP14 world championship event sees one of the biggest fleets of single class twin crew dinghies assemble in Northern Ireland.
With an international following the event attracted about 200 competitors, some from as far away as Australia.
Hosted by East Down Yacht Club, which is a few miles outside Killyleagh, races are held daily over the week-long event.