Fracking firm Tamboran expects decision on borehole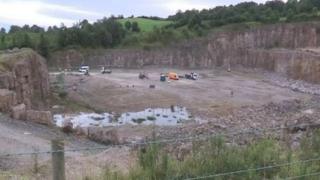 Northern Ireland's environment minister is due to decide on Monday whether a firm exploring for shale gas can start to drill an exploratory borehole.
The company, Tamboran, has applied for permission to drill a 750m deep hole at a quarry in Belcoo, County Fermanagh.
Its aim is to check if there is enough gas below ground to warrant seeking a licence to set up a fracking operation.
The minister had 21 days from the date the application was submitted to decide if the hole meets permitted criteria.
Protesters who object to both fracking and the process of shale gas exploration have held a permanent vigil and daily protests at the quarry.
They are due to hold a cross-community religious service at the gates at 19:00 BST on Monday.
Tamboran staff moved into the quarry three weeks ago and have carried out work to secure the site.
The firm is expecting Mark H Durkan to announce his decision on Monday, but a spokesperson for the minister's department would not confirm this, saying only that that a decision on exploratory drilling would be made as soon as possible.
The Department of the Environment (DoE) has been carrying out its own environmental impact assessments at the quarry.
It has also been consulting with its legal advisers regarding the conditions of permitted development.
The protesters have argued that a full environmental impact and public health assessment should be carried out before the minister permits exploratory drilling.
They have said they fear a borehole could be the first step towards the setting up of an industry that they believe could damage the environment and the health of local residents.
The borehole drilling process would not involve fracking.
If the firm is given permission to drill and finds enough gas in the shale to make it economically viable to extract, it would be at least two years before it would seek to begin shale gas extraction.
For fracking to begin, the Stormont Executive would be required to give its approval, but the majority of its members are opposed to such a move.
Currently, Sinn Féin, the SDLP and UUP say they oppose fracking, while the DUP has said exploration should take place, and any application for extraction should be judged at the time.
Last week, politicians condemned a petrol bomb attack that targeted the family home of a Tamboran worker in Letterbreen.