PMI survey: NI construction industry continues to recover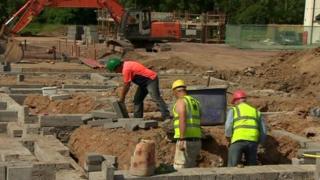 Northern Ireland's construction industry is continuing to recover, but it may be down to firms winning work in Great Britain, a survey has suggested.
The Purchasing Managers Index (PMI) is a monthly survey of a panel of firms that tracks indicators such as new orders, employment and exports.
It showed growth in all business sectors in July, with construction leading the way.
The PMI data is produced by Ulster Bank.
Five-year slump
Richard Ramsey, the bank's chief economist in Northern Ireland, said strong growth in construction output "does not necessarily relate to work being done in Northern Ireland".
He said many local construction companies have been expanding their workloads elsewhere, particularly in Great Britain.
Growth in construction is coming off a low base, following a five-year slump.
The recession in Northern Ireland, which was exacerbated by the bursting of a property price bubble, has had the greatest impact on construction.
'Squeezed'
The output of the industry has shrunk by more than 25% since 2007 and about one in three jobs in the sector have been lost.
Mr Ramsey said that although recovery was under way, many companies in all sectors were still living with squeezed profit margins.
He said the rate of cost inflation picked up in July, but output prices failed to follow suit.
He added that some survey respondents reported the need to use discounts to remain competitive.