Belfast City Cemetery: 'Hate crime' attack on military memorials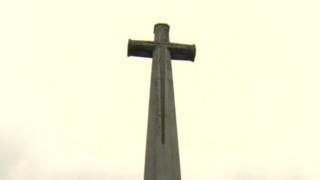 Two military memorials and a Cross of Sacrifice have been damaged during an attack at Belfast City Cemetery.
Police are treating the attack at the graveyard on the Falls Road, in the west of the city, as a hate crime.
A screen wall at the cemetery was also damaged with paint and graffiti. Police said it is not known when exactly the latest attack took place.
In April, the same Cross of Sacrifice was extensively covered in graffiti and 14 war graves were damaged at the site.
The Cross of Sacrifice is symbol of commemoration that was designed for Britain's Imperial War Graves Commission shortly after World War One.
The organisation was later renamed the Commonwealth War Graves Commission (CWGC).
The CWGC recently said the cross "represents the faith of the majority and the human sacrifice of all Commonwealth war dead" during both world wars.