William Hay: Assembly speaker elevated to Lords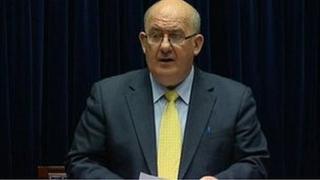 The DUP MLA William Hay has become a member of the House of Lords.
The Donegal-born politician, who is the Speaker of the Northern Ireland Assembly, has elected to sit on the crossbenches.
Mr Hay, who is 64, was elected Speaker in May 2007 following the restoration of devolution to Northern Ireland.
DUP leader Peter Robinson said with Mr Hay's commitment to public service and experience in public life, he would be a tremendous asset as a DUP peer.
Earlier this year, an arrangement was reached between the DUP and Sinn Féin for Mitchel McLaughlin to take over the Speaker's post but the present impasse between the parties means that agreement is likely to be reconsidered.
Mr Hay said he was delighted, but humbled, by the announcement of his elevation to the Lords.
"When I first entered politics in Londonderry, I would never have imagined that I would have had the opportunities which have been presented to me, particularly in recent years," he said.
"It has been a great privilege for me to have been able to serve all the people of Londonderry for over 35 years, a city which I am very proud to call home, and to have been able to serve the Northern Ireland Assembly as Speaker since 2007."
Since taking the chair, Mr Hay has had to keep MLAs on a tight rein.
'Unparliamentary language'
In the occasionally volatile atmosphere in the assembly chamber, he has had to rule on transgressions such as unparliamentary language and has sometimes suspended his own party colleagues.
He will now join former Speaker, John Alderdice, now Lord Alderdice, in the Lords.
Mr Hay was elected to Londonderry City Council in 1981 and served as mayor in 1993. He was elected to the assembly in 1998.
Peter Robinson said Mr Hay would ensure that the "unionist voice of the city of Londonderry would be amplified within the Houses of Parliament".
"I am delighted for William and congratulate him on this elevation to the House of Lords," he said.
"I have known the Hay family since the formation of the DUP and William has been an excellent public representative for the people of Londonderry for over 30 years.
"William was the first ever DUP councillor to serve as the mayor of Londonderry.
"His leadership in the city is recognised right across the community."