Transatlantic friendship: Pen pals of 31 years meet for first time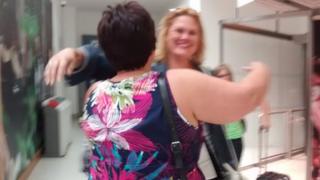 It is hard to imagine being friends with someone for more than three decades and never meeting each other.
But Yvonne Millar, from Ballymoney in County Antrim, and Kim Arnal, from Winnipeg in Canada, have been pen pals for 31 years - and have only just met for the first time.
The pair began sending letters to each other while they were both at school, and finally last weekend, Kim and her daughter flew to Belfast City Airport to meet Yvonne and her family.
It was an emotional experience for Yvonne and Kim, who said they had supported each other through years of highs and lows just with hand-written letters.
'Stayed strong'
Yvonne explained how their long-lasting friendship had come about.
"It was in first year at high school, and our teacher asked us if anybody was interested in having a pen pal," she said.
"A few of us put up our hands and I got Kim then in Canada. I also picked Italy but that friendship sort of fizzled out after a couple of years, but Kim and I have stayed strong the whole way through."
Kim said she had wanted to visit Yvonne much sooner, but that the opportunity had just never presented itself.
She said: "In 1989 she invited me to visit. It took this long to get here, but then she didn't come visit me either because I counter-offered."
Kim said she and her daughter, Kaylen, were going to make the most of their trip to Northern Ireland, and had set their sights on seeing everything Titanic-related.
Yvonne said she had already taken them to "all of the best spots" on the north coast.
She said: "We've been doing a lot of sight-seeing. We have done the tour of Game of Thrones. We've been doing round the north coast, all of the sights there."
Kim added that her favourite attraction so far had been the Giants Causeway.
"The guide we had just told such wonderful stories and made it come to life," she said.
"I also loved the dark hedges, I took pictures so I could show everyone back home that I was there - I've put them on Facebook already."
'Connection'
Both Yvonne and Kim said the best thing about being pen pals was that they always had letters filled with funny stories to come home to.
"When we were children, Yvonne's mum would bring in the mail and my dad would pick up the mail on the way home, and it was just exciting to have a connection across the water, with no judgement," Kim said.
"It was just easy, this was who we were - we could be in our jammies, talking about make-up and boys. It's like a personal journal, Yvonne is my diary."
Even though technology quickly progressed with the invention of mobile phones, e-mail and Skype, their friendship has stayed mainly in letter form.
Surprisingly, Yvonne said she had only spoken on the phone to Kim one time before they met, and that they never used Skype to talk to each other.
Accent
"It's really the time change that's the problem because when she's getting up I'm still in bed, and when she's going to bed I'm still in work," Yvonne said.
"So that, plus my accent the day we spoke on the phone, she couldn't understand what I was saying and she couldn't exactly lip-read on the phone."
But how had Kim fared with Yvonne's Ballymoney accent since touching down in Northern Ireland?
"It's gotten better, it took me until Monday to get to grips with it. She tells me she's taking it slow for me," Kim said.
The real question, however, was if Yvonne and Kim believed their friendship would last another three decades.
Kim said she "didn't ever see it stopping", and Yvonne, who is now planning a trip to Canada next year to visit Kim, said: "Here's to the next 31 years - plus!"