MFS lays off 11 staff as result of Stormont budget cuts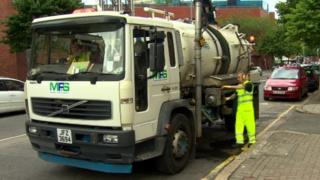 A Belfast firm is laying off 11 staff as a result of Stormont budget cuts, the BBC has learned.
On Wednesday, Roads Minister Danny Kennedy said cuts to his department would affect the number of times gullies are emptied.
Belfast firm MFS, which has the contract to empty gullies across Northern Ireland, said its contract work was stopping as a result.
The family-run company has been involved in this work for 20 years.
Its deal with government is part of a £1m contract that also includes grass cutting and weed spraying.
Aidan Flynn from MFS said the news from the Department of Regional Development means "that 11 direct staff will be laid off".
He also told the BBC that other subcontractors may have to lay off 30 other staff.
One of those who will lose their job is 29-year-old Paul Kayes.
He has worked in the industry for 10 years.
He has two children and is unsure where he can find work.
He told the BBC that "there was no work out there at the minute".
He thinks his current work with the company could end "next week" or there could be "two weeks at the most".
Those who represent contractors have said they are not surprised by the news.
John Armstrong from the Construction Employers Federation said it is a sense of "we told you so".
He said the announcement by MFS "was very bad news" and it meant that in the recession the construction industry in Northern Ireland had lost 26,000 jobs.
Mr Kennedy said on Wednesday he had "no option" other than to stop issuing new work to certain contractors, who undertake one quarter of the department's work.
The cuts will also affect the number of times potholes are repaired and street lights are fixed.
Of the £78m cuts announced in the June monitoring round last week, the three hardest hit departments were Employment and Learning, which is losing £16m, Justice, which is facing a £22m cut and Social Development, which is losing £13m.
A spokesperson for the Department of Regional Development said: "Unfortunately this serves to demonstrate what DRD Minister Danny Kennedy has warned about."
"The impact of the budget shortfall will have an detrimental impact on the lives of real people," the DRD official said.
"The minister will continue to submit bids for the vital funding needed to maintain our roads and street lighting services.
"Should further funding become available following the October monitoring round then the current suspension of work instructions to external contractors will be reviewed as matter of urgency."