Cat survives five-day ordeal trapped in illegal snare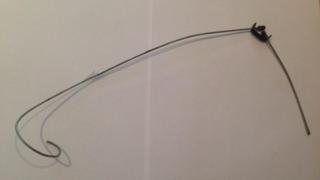 A cat called Sox has survived being trapped for five days in an illegal wire snare that became embedded in its body.
It took County Down vet Stephen Wilson over an hour to remove the snare from the black-and-white cat's abdomen.
He said the snare had "10 or 15 strands" that had to be painstakingly removed.
The vet said Sox had "used one of his nine lives. He's a very lucky cat".
Sox's owner, Tanya Heaslip, said he had been trapped just yards from his Banbridge home.
"He probably could hear me calling him. That was the upsetting bit," she said.
TV wildlife expert Bill Oddie told Radio Ulster's Talkback it was unusual that the snare had been set in a built-up area.
"It's not a grouse moor or anything," he said. "Unfortunately, snares are not uncommon at all."
Mr Wilson discovered that Sox had been microchipped and he was was reunited with the Heaslip family when they returned from their summer holiday.