Iris Robinson-linked developer Ken Campbell in debt deal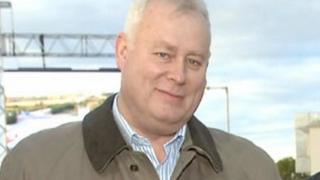 Businesses owed money by a property developer who lent Iris Robinson £25,000 to help her lover set up a cafe have received just 8p for every £1.
Ken Campbell, who is from Saintfield, County Down, traded as J&K Campbell.
He began insolvency proceedings against bankruptcy in 2011, applying for an individual voluntary arrangement (IVA).
An IVA is a deal between a debtor and their creditors, by which part of the debt is written off and the outstanding money repaid over five years.
A letter sent on Mr Campbell's behalf last week has been seen by the BBC.
It said Ken Campbell's debts totalled £1.7m.
Personally liable
The letter also revealed that the company that supervised the IVA was paid almost £50,000 for its work.
It also stated that this company was now "pleased to be in a position to pay a dividend of 8p in the pound to creditors whose claims are neither secured nor preferential".
Because J&K Campbell was held personally rather than incorporated as a limited company, Mr Campbell was liable for its debts.
In January 2010, a solicitor acting for Mr Campbell told the BBC his client had lent £25,000 to Mrs Robinson's lover Kirk McCambley.
The solicitor said £20,000 had been repaid and it was expected that the outstanding £5,000 would also be paid back in full.
A BBC Spotlight programme broadcast in January 2010 alleged that Mrs Robinson obtained £50,000 from two property developers to help her teenage lover to run a cafe in south Belfast, and asked him for £5,000 for herself.
She failed to register the money with the authorities at Stormont and also failed to tell the Westminster authorities, as required by law.
Resigned
Spotlight also reported that Mr Robinson became aware of his wife's involvement in the business deal but failed to tell the proper authorities, despite being obliged to act in the public interest by the ministerial code.
Mr Robinson stepped aside as first minister of Northern Ireland temporarily to clear his name
After the broadcast, Mrs Robinson resigned as an MP, MLA and Castlereagh councillor.
The Police Service of Northern Ireland's organised crime branch, which specialises in financial investigations, launched an investigation in January 2010.
In March of that year the Public Prosecution Service said the former DUP MP would not face charges over her role in helping her ex-lover Kirk McCambley, set up a business.
The Director of Public Prosecutions said it would not be bringing a case against the wife of Northern Ireland's first minister.
A separate inquiry by the Northern Ireland Assembly's Standards and Privileges Committee was also launched following the broadcast.
It is yet to report on its findings.