Keith and Caroline Baker deny abusing disabled woman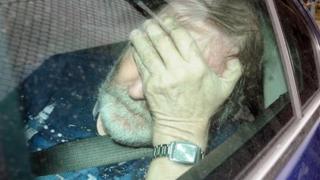 A couple have denied subjecting a mentally disabled woman to a catalogue of rape and sex abuse while holding her hostage for almost 10 years.
Caroline Baker, 53, along with her 57-year-old husband, Keith Baker, appeared before Craigavon Crown Court.
They are jointly charged with several offences, including false imprisonment and inciting a person with a mental disorder to engage in sexual activity.
Both deny the charges, claiming that any sexual acts were consensual.
Mr Baker faces a further six charges of raping the woman, while his wife is charged with a further three counts of "aiding and abetting, counselling and procuring" her husband to rape the disabled woman.
The court heard the couple manipulated and controlled their alleged victim, keeping her prisoner in squalid conditions for years.
During searches of their former home laptop computers, cameras, recording equipment and mobile phones were seized by police for examination.
Mr Baker was remanded in custody, while his wife was released on continuing bail.
The case was adjourned until September.