Heaven's Streets: Daniel O'Rourke's tribute to kidney donor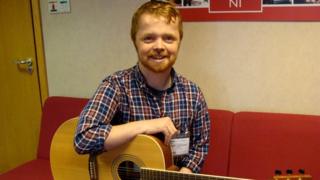 A Belfast man who had a life-saving kidney transplant 18 years ago has written a song for the 14-year-old donor, which he will perform at the opening of the Transplant Games on Thursday.
Singer and songwriter Daniel O'Rourke, 21, wrote Heaven's Streets for the teenager, who was killed in a car crash.
He said not a day goes by that he did not think about the boy.
"It's just simple things that make me think about him. I'm always very thankful and my way of thanking him is just by living life to the full," Daniel said.
"I just believe my life started at three when I had my transplant.
"Everything beforehand, I was just so sick I couldn't do anything. Without it, I wouldn't be able to do anything that I'm doing now."
Gifted Organs
Daniel has competed in previous games as a cyclist, but is not doing so this year because of study commitments.
To promote organ donation he penned the song The Gift for the Belfast transplant games in 2011.
He is a member of a band with three members who have had transplants, aptly named the Gifted Organs.
Daniel said he had written the lyric "Heaven's streets will be filled with an angel tonight" and knew who it should be dedicated to.
"What better thing to write about than my own life experience," he said.
"I really wanted to thank my donor and this was my way of thanking him and letting him know somewhere out there in heaven that I'm always thinking about him and always thankful for what he's done for me."
He said he was "so excited" to be performing the song at the Transplant Games in Bolton.
Heaven's Streets was recorded at Peter Gabriel's studio near Bath. All profits will go to Transplant Sport.