Underpaid contractor: Housing Executive pays out £470,000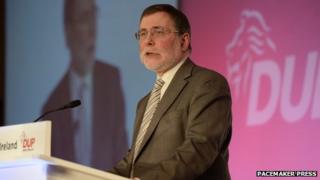 One of the building contractors accused of receiving overpayments from the Northern Ireland Housing Executive is to receive £470,000 after it emerged it had been underpaid.
Dixons Contractors was one of four firms named in the assembly by Housing Minister Nelson McCausland.
He said they had been overpaid by £18m on planned maintenance contracts.
However, three of the firms have reached a settlement that will involve repaying just £670,000.
They are PK Murphy, Bann and Mascott.
'Apologised'
A further £2m in disputed payments has been written off by the public housing body.
Dixons, which is based in Dunloy, County Antrim, had always denied the claim that they were overpaid.
Mr McCausland said he believed NIHE had already apologised to Dixons for the underpayment.
"I simply relayed at the time what was given to me by the Housing Executive and that was incorrect," he said.
The Housing Executive chairman, Donald Hoodless, said the £18m figure was an estimate reached by extrapolating "a very small sample".
He said the Housing Executive had always been clear about the limitation of the estimate.
When he appeared before a Stormont committee earlier this year, Mr Hoodless said he was "surprised" the minister had used the £18m figure in the way he did.
'Exonerates'
In a statement on Wednesday, Dixons Contractors said they welcomed the settled reached on Tuesday and the acknowledgement by the Housing Executive that the company was not overpaid.
"We are satisfied that this settlement exonerates Dixons and confirms that we have always acted diligently and professionally," the company said.
"We look forward to continuing to work constructively with the Housing Executive in the new framework.
"Dixon Contractors have teams in place to continue to fulfill the Northern Ireland Housing Executive contract and certainly will endeavour to ensure that tenants are serviced and that schemes such as windows replacements will take priority before the winter months."