Belfast city centre explosion was aerosol set alight in rucksack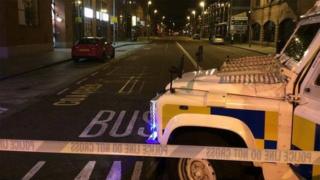 A small explosion in Belfast city centre was caused by an aerosol can set alight inside a rucksack, police have said.
A man, dressed in black, was seen setting an object alight in the Chichester Street/Victoria Street area at about 00:20 BST on Tuesday.
A bang was then heard. The area was cordoned off as police and Army bomb disposal officers inspected the object.
Cordons were lifted and roads reopened shortly after 03:00 BST.
No-one was injured and there was no serious damaged caused to property.
Police have appealed for anyone who noticed a man dressed in black, carrying a rucksack or any other suspicious activity in the area to contact them on the non-emergency number 101.
BBC Northern Ireland reporter Rick Faragher, who lives in the area, said he heard a loud bang just after midnight.
"It was a distinctive sound, not like a car backfiring or anything like that," he said.
"The noise had come from a hundred yards or so down the street I live on, which is Chichester Street.
"I looked out of the window and saw armed police already arriving at the scene and stopping traffic, so I knew it was something serious.
"A police officer told me that something had exploded at the end of Chichester Street, but he wasn't sure what it was exactly."