Fracking firm Tamboran worker's home attacked with petrol bombs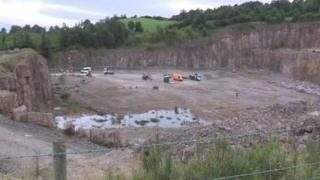 Politicians have condemned a petrol bomb attack on the family home of a site worker at the company exploring for shale gas in County Fermanagh.
Two petrol bombs were thrown at the house in Letterbreen during the early hours of Sunday, but no-one was hurt.
Enterprise minister Arlene Foster called it "a disgraceful and cowardly attack on the home of an innocent person".
Anti-fracking campaign group Belcoo Frack Free criticised the attack.
Their spokesman, Donal O'Cofaigh, said: "This attack is wrong and we condemn it. Such actions only undermine our goal of putting a halt to shale gas exploration.
"We ask those responsible to desist immediately. This action is not in our name."
The fracking firm, Tamboran, said the attack followed a number of unlawful incidents and threats to its security staff.
Staff were threatened at a quarry in Belcoo, where Tamboran is intending to drill a gas exploration borehole.
'Orchestrated'
The company has faced opposition to its plans and protesters have held vigils outside the quarry.
In a statement on Monday, the firm described the weekend petrol bombing of its employee's home as "an orchestrated and abhorrent attack on a local family in the middle of the night".
"Tamboran fully respects the right to peaceful protest," the firm's statement added.
"We welcome calls from those who have called for any protests to be peaceful. However, we cannot ignore such attacks.
"We call on all local political, community and anti-fracking representatives to unequivocally condemn this petrol bombing attack and to encourage people to share any information they have with the PSNI."
The MP for the area, Sinn Féin's Michelle Gildernew, said someone could have been seriously injured and she "unreservedly" condemned the attack.
"While the vast majority of people in Fermanagh and further afield oppose fracking, this is not the way to express that opposition," she said.
Ms Gildernew said her party was "totally opposed to fracking and will block any proposals to frack in Fermanagh if and when that comes before the executive."
'Dangerous activity'
Ulster Unionist MLA Tom Elliott also condemned the attack, saying there was "no excuse for such dangerous, criminal activity".
"While many people, including myself, have concerns about the proposals to carry out fracking in Fermanagh, it does not justify terrorist-type campaigns against the process and those involved in it," Mr Elliott added.
The company said it was "operating within the terms of the licence it was awarded by the Northern Ireland Executive to explore for natural gas in Northern Ireland".
The purpose of drilling the borehole is to collect rock samples and it will not involve fracking.
However, if the samples show commercially viable levels of gas, Tamboran will begin a process that could lead to fracking.
The attack on the site worker's house at Station Road, Letterbreen, happened at about 03:25 BST on Sunday.
Police are investigating and want to speak to the driver of a dark- coloured Audi estate car that was seen in the area at the time.