Northern Ireland Executive votes to back budget deal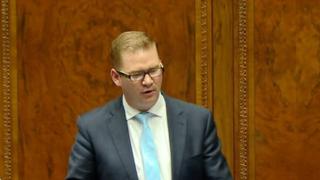 Stormont departments, excluding health and education, are to have their budgets cut by £78m.
The figures were revealed at a meeting of the executive that has agreed to endorse the June monitoring round.
Finance Minister Simon Hamilton has also warned that further cuts, amounting to £87m, will be required if a deal on welfare reform is not agreed.
The executive has agreed that the reductions will begin to take place in October.
Of the £78m cuts announced on Thursday, the three hardest hit departments are Employment and Learning, which is losing £16m, Justice, which is facing a £22m cut and Social Development, which is losing £13m.
The finance minister has also criticised the Department of Health, run by his DUP colleague Edwin Poots.
Mr Hamilton was critical of an overspend by the department. He said this was because of "poor budget management".
The Department of Health had requested an extra £160m, but is only to receive an extra £20m, but that is dependent on its performance improving between now and October.
The executive also confirmed that £4m would be made available for the Historical Abuse Enquiry.
Mr Hamilton said funding had also been allocated to maintain free public transport for people aged over 60.
Two votes against deal
A majority of ministers passed the deal on the June monitoring round.
However, the two Alliance ministers voted against it and the Ulster Unionist minister Danny Kennedy abstained.
They said the issue of welfare reform had merely been postponed.
Mr Kennedy said what he called "voodoo economics" were at play and that there was an "air of unreality".
Mr Hamilton said: "Given the significant pressures facing the executive's budget this year, it has been necessary to agree an immediate 2.1% reduction to departmental resource budgets."
He added: "Further reductions to departmental budgets amounting to £87m will be required as a consequence of welfare reform not progressing.
"The executive has agreed that these reductions should occur in the October monitoring round.
"This will cause further pain across departments and will undoubtedly have a detrimental impact on our public services."
Northern Ireland is being penalised by the Treasury for not endorsing welfare reforms passed by Westminster in February 2013.
Sinn Féin has led the opposition to the reforms.
The party's Daithí McKay said: "What we need to do now is prevent further cuts to our budget from the British government by going and having a united front from the executive in terms of the issue of welfare cuts."
He added: "We have made an agreement and I am very confident that come October we can make an agreement on a way forward.
"What we agreed was to deal with welfare reform and the issues arising from it at the time of the next monitoring round in October."
'Deeply discontented'
Following Thursday's meeting, the Ulster Unionist Party said there were elements of the budget paper it was "deeply discontented" with and criticised Sinn Féin's stance on welfare reform.
"While Sinn Féin may be good negotiators they aren't good at government. Today was a demonstration of voodoo economics," the party said in a statement.
"While they may try and spin the June monitoring round as a victory, all they have done is kick the can down the road."
Alliance Employment and Learning Minister Stephen Farry said the fact that funding for the health and education departments - "one each for Sinn Féin and the DUP" - would put added pressure on other departments.
He said there was no sign of an agreement between Sinn Féin and the DUP over welfare reform.
"It's an utter standoff, there's no process in train in which they will try and bridge that gap," he said.
The SDLP's Dolores Kelly said: "We will be facing another monitoring round in a couple of months. It seems evident that some form of executive summit to manage the rest of the financial year is now required.
"This cobbled together deal is already falling apart. It has failed to allow scrutiny by the assembly committees who should have been given the opportunity to examine the detail."