Stormont budget: DUP and Sinn Féin 'reach agreement' on monitoring round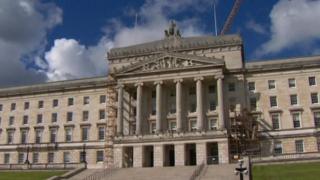 The DUP and Sinn Féin have reached agreement over Stormont's latest quarterly budget after weeks of deadlock, the BBC understands.
A meeting of the executive to ratify the deal has just ended.
The budget, known as the June monitoring round, has been delayed for four weeks.
The parties clashed over how to deal with the Treasury's demand for £87m in financial penalties because welfare reform has not been introduced.
Sinn Féin had opposed a DUP proposal to use some of this money to meet the financial penalties imposed by the Treasury.
'Shambolic'
The monitoring round directs unspent funds from some Stormont departments to others where there is a shortfall.
Justice Minister David Ford, who leads the Alliance Party, described the situation as "shambolic" while the Ulster Unionists and the Social Democratic and Labour Party (SDLP) said they had been kept in the dark about the deal.
Mr Ford said: "We got a message late yesterday afternoon, sometime after five o'clock, that there would be an executive meeting today (Thursday).
"We have no sign of the paper that is going to be presented to the executive today, to know exactly what is now being proposed."
'Two-party rule'
Ulster Unionist MLA Danny Kinahan said: "We have absolutely no detail as to what they have agreed.
"We wanted consensus government when we set this all up and instead we have stand-offs all the way through and don't get anywhere."
SDLP MLA Dolores Kelly said there appeared to be "two-party rule" at Stormont and accused the DUP and Sinn Féin of "very poor decision-making".
"I don't think its good enough for many workers across all of the other departments not to know what the implications are for their jobs, particularly those who are on temporary contracts," she said.
Earlier this month, First Minister Peter Robinson said the Historical Institutional Abuse Inquiry (HIA) might have to be suspended due to the dispute.
However, institutional abuse campaigners later said they had been "reassured" by the first minister that money would be available for the inquiry.
Last week Sinn Féin said it was confident agreement would be reached after a paper was tabled by Finance Minister Simon Hamilton.
The executive also faces a budget shortfall of £75m.
The paper, circulated by Mr Hamilton last week, outlined a 2% cut to all departments except health and education, according to Stormont sources.