Milltown: Connection between British soldier and IRA man discovered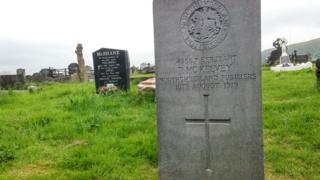 The graves of a highly unusual father and son have been discovered in Belfast's Milltown Cemetery; one was a British soldier and the other was in the IRA.
The unlikely family connection was uncovered by former Belfast Lord Mayor Tom Hartley, while researching the graveyard for a new book.
He discovered that soldier Patrick McKelvey and his son, IRA man Joe McKelvey, were buried 30 graves apart shortly after the First World War ended.
Patrick is in a British war grave, while Joe is in a plot reserved for Irish republicans.
Mr Hartley, a retired Sinn Féin councillor, said: "This shows the complex nature of our island's story.
"Milltown must be the only cemetery in the whole of Ireland where a father is buried in a British war grave and his son is buried in the republican plot."
The McKelvey family originally came from Stewartstown, County Tyrone, but moved to the lower Falls area of west Belfast sometime around 1914.
Patrick McKelvey was in the Irish police force but, during the war, he enlisted in the special reserve of the British Army and, in 1917, was posted to the Northumberland Fusiliers.
He died two years later, due to a perforation of his stomach, at the age of 57.
At around the same time, his son Joe became a leading member of the original IRA.
Details about him are contained in Tom Hartley's new book, Milltown Cemetery: The History of Belfast, Written in Stone, published by Blackstaff Press.
The author writes: "Rising to the rank of Officer Commanding (OC) Belfast Brigade, he was promoted to OC Northern Command.
"Opposed to the Anglo-Irish Treaty signed on December 6th 1921...he assumed leadership of the anti-treaty IRA."
The following year, he was executed during the Irish civil war.
When he was buried at Milltown Cemetery, the funeral oration was given by anti-treaty republican Seán Lemass, who later became Irish prime minister (Taoiseach).
Although they led very different lives, the father and son came together at a key moment.
When Patrick died at Belfast's Royal Victoria Hospital in August 1919, Joe - his only son - was at his bedside.
Tom Hartley believes this reunion was significant and reflects Irish society, both now and then.
He said: "When someone dies in a family, families come together. No matter what the uniform, no matter what the issue.
"It's a reminder, as I often say, that death transcends the pettiness of life."