Mark H Durkan approves Howdens Quay development in Larne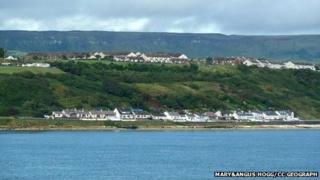 A development on the Larne shoreline that will include housing, light industrial units and leisure uses has been given the go-ahead by Environment Minister Mark H Durkan.
The site, known as Howdens Quay, is on the southern edge of the town.
Most of it was previously in industrial use and part of it is still used as a fuel depot.
Mr Durkan said the development would bring a "much needed boost to the local economy".
It is ultimately owned by Tedcastle Holdings, the fuel distribution firm controlled by the Dublin-based Reihill family.
The plan is for around 55% of the 13 hectare (32 acres) site to be used for housing, 30% earmarked for new industry and the remainder to be developed for leisure uses.
The planning permission is an outline consent meaning specific uses will involve making further planning applications.
Mark H Durkan said the redevelopment "has posed particular challenges in dealing with its industrial legacy and in the difficult topography of the site".
"However this development will create a quality built environment which at the same time recognises and helps sustain the internationally important habitats and wildlife of Larne Lough and the wider Antrim coast," he added.