Police say attack on St Patrick's Church, Dungannon, hate crime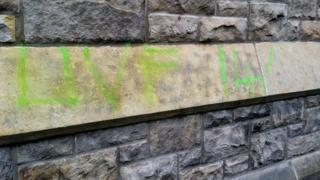 Police have said they are treating an attack on a Catholic church in County Tyrone as a hate crime.
Graffiti was daubed on St Patrick's Church on the Killyman Road in Dungannon some time overnight between Tuesday and Wednesday.
Police said their enquiries are continuing.
Anyone with information is asked to contact police at Dungannon on the 101 non-emergency number or Crimestoppers.
SDLP councillor Denise Mullen said it was "a disgusting and appalling act of vandalism".
"Whoever is responsible for this should be ashamed," she said.
"To carry out a thuggish act like this on a place of worship is cowardly and, really, it is an attack on the community."
Sinn Féin MLA Bronwyn McGahan condemned the attack.
"All places of worship, regardless of the denomination, should be treated with respect," she said.
Disappointment
"I'm sure the entire local community will condemn this attack and I hope that it won't impact on the positive community relations in the area."
DUP councillor Kim Ashton said the local community would be "very disappointed" by what had happened.
"It's certainly something I want to take the opportunity to completely condemn those that have been responsible for putting this graffiti on the church," she said.
"No church, regardless of what faith it represents should be subject to these type of attacks within our community."