AIB returns to profit for first time since bailout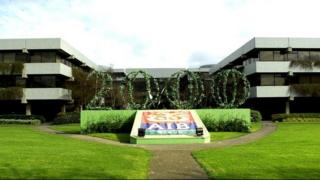 Allied Irish Bank (AIB), the parent firm of Northern Ireland's First Trust bank, has returned to profit for the first time since the financial crash.
AIB made a pre-tax profit of 437m euros (£346m) over the first six months of this year.
It represents an improvement of 1.3bn euros (£1bn) in the bank's performance, compared to the same period last year.
The improved half-year results are an important milestone for AIB, which was bailed out by Irish taxpayers in 2009.
The bank has received more than 20bn euros (£15.8bn) in state aid over the past five years and is now 99.8% owned by taxpayers.
AIB's chief executive officer, David Duffy, said the bank had "achieved its stated aim of returning to sustainable profitability" with its half year results "reflecting strong improvements" in its performance in several areas.
"As the Irish economy and the bank recovers, we remain focused on growth and maximising value for the Irish State, as 99.8% shareholder, and all other stakeholders over time," he said.
The bank has recorded heavy losses over recent years due to its exposure to the Irish property market crash.
AIB had briefly shown a profit in the first half of 2011, but that was due to one-off items which flattered a large underlying loss.
Over the past six months however, the number of bad or impaired loans that remain on AIB's book decreased by 2.9bn euros (£2.3bn), a fall of 10%.
There was also a 6% drop in the total number of residential mortgage holders whose accounts are in arrears.
First Trust, one of the four biggest banks in Northern Ireland, is a wholly owned subsidiary of AIB.
Last week, Danske Bank became the first of Northern Ireland's "big four" local banks to show a sustained return to profit.
Danske Bank made a pre-tax profit of £45m in the region during the first six months of 2014, compared to a £1m loss in the same period last year.
The following day, Ulster Bank posted a half-year profit of £55m.
Its parent company, RBS, described its group results as "significantly stronger than the market was expecting".
Ulster Bank's performance to date this year compared favourably to its £381m loss over the first six months of 2013.