Theresa Villiers meets Irish Foreign Minister Charlie Flanagan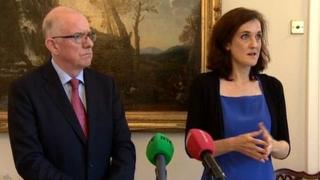 The new Irish Foreign Affairs Minister Charlie Flanagan has said he wants to see a resumption of all-party talks in Northern Ireland in September.
Mr Flanagan was speaking after meeting Secretary of State Theresa Villiers for the first time at Stormont.
Unionist parties walked out of talks about parades, flags and the past at the start of July.
It followed a Parades Commission decision on a north Belfast Orange Order parade.
Wednesday was Mr Flanagan's first visit to Northern Ireland since succeeding Eamon Gilmore as foreign affairs minister earlier this month.
"I believe it's imperative that the all-party talks at leader level be reconvened at the earliest opportunity," he said after the meeting.
Ms Villiers is also holding meetings with the Northern Ireland parties and community representatives over the next few days.
Unionist leaders have called on the secretary of state to appoint a commission of inquiry into a parade dispute in north Belfast and the wider issue of contentious marches in Northern Ireland.
They made the call three weeks ago, as part of what they described as their "graduated response" to a Parades Commission ruling on a controversial Orange Order march that passes along north Belfast's Crumlin Road.
For the second year in a row, the parade was barred from returning along part of the road that separates unionist and nationalist areas on 12 July.
'Potential to damage relations'
After his party met with Ms Villiers on Wednesday, SDLP leader Alasdair McDonnell also called for talks to resume.
"The unionist proposed commission has the potential to send community relations back 15 years," he said.
"The Parades Commission is the lawful and independent body tasked with making determinations on parading and while the SDLP might not always agree with those determinations we always accept them and always urge others to do so too.
"There is an urgency now for the resumption of all-party talks. A vacuum must not be allowed to develop."
Ms Villiers said she was looking at various options.
"What tends to unify most people is the importance of bringing the two sides together in north Belfast in a sustained dialogue," she said.
"So if anything fresh is to be set up, I think that should be at the heart of it.
"But there are various different options to choose from - I'm looking at those carefully."