Dundrod cemetery: Proposal opposed by community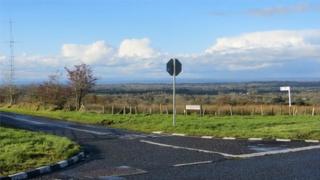 Plans for a huge new cemetery beside the south Antrim village of Dundrod are meeting strong opposition from a group of residents.
A four-year search by Belfast City Council has identified a 100-acre site beside the Ulster Grand Prix motorcycle circuit as a possible location.
However, the prospect of a massive graveyard in the area has proved controversial.
Lisburn councillor James Tinsley said locals were angry at the proposal.
"This has been ongoing for four years and I feel somewhat aggrieved that a massive cemetery is proposed right on the doorstep and we know nothing about it," he said.
'Accidents'
"Anyone who knows this area, and especially the locals, will know the dangers that the road imposes, the number of accidents that have already occurred on the road and the very bad bends on the road, never mind bringing hundreds of people daily from the city of Belfast to this rural part of the country."
Mr Tinsley said another issue was the fact that the Ulster Grand Prix was staged in the area every year.
"This is an international road race, world-renowned, and this would pose all sorts of problems," he said.
"The roads are closed at least for two days for practice and all day on Saturday and it would be very difficult to try to accommodate it all.
"I think the best thing is for this proposal to be withdrawn and (a search started) for another site.
"The locals will accept that everyone has a right to be buried, and it's council's responsibility, but I think a more appropriate site and consulting with the neighbours would have been a big help to bring them along with any such proposal."
Caoimhín Mac Giolla Mhín, deputy chair of Belfast City Council's parks and leisure committee, said at this stage there was no commitment whatsoever to build a cemetery on the site in Dundrod.
'Responsibility'
"Belfast City Council are exploring all options and have been exploring numerous sites over the past 20 or 30 years," he said.
"They have to work to a 50-year planning horizon and it's the council's responsibility to ensure that there's sufficient burial sites in the city of Belfast for the future generations.
"It's very close to it and to find a site of this size and of this scale within the city boundaries would be very, very difficult."
Mr Mac Giolla Mhín said a "lot of technical work" was undertaken before any sites were identified.
The deputy chair said local residents had not been consulted because the site was only being "explored as an option" at this stage.
"If and when that site becomes suitable, there would be vast consultation that will take place that will take on all the concerns of local residents," he added.
A paper on the issue will be discussed by the committee in early autumn.